Trafag is one of the world's leading suppliers of high-quality sensors and monitoring devices for pressure, temperature and SF6 gas density. In addition to a wide range of standardised, configurable products, Trafag also develops tailored solutions for OEM customers. Trafag's pressure transmitters, pressure switches, temperature transmitters and thermostats are used in shipbuilding, hydraulics, the railway industry, large engines, zones at risk of explosions (EX), water treatment systems, test benches, and more. The SF6 gas density sensors and SF6 gas density monitors are used for high- and medium voltage switchgears.
Trafag was founded in 1942 and is based in Switzerland. The company has an extensive distribution and service network in over 40 countries worldwide. This enables the company to provide individualised, competent customer support and guarantees fast service. High-performance development and production departments not only guarantee the fast and reliable delivery of our high-quality and high-precision products, but also ensure that customisations can be implemented in no time at all. Source: https://www.trafag.com/en/about-us/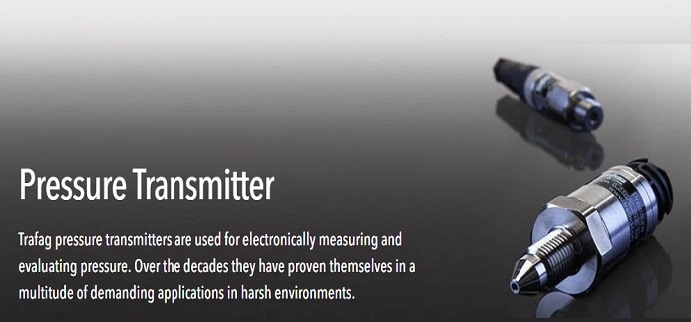 Pressure transmitters

They are available in many different designs to suit pressure and electrical connections, measuring procedures, electrical output signals and certifications (CE, EX, rail and ship). Superior technology and precise manufacturing ensure that the transmitters work perfectly. This is especially important in applications where high requirements are placed on long-term stability, vibration resistance, electromagnetic compatibility, shock resistance or temperature insensitivity.
N 8202 , ND 8204 , H 8212/8213 , FPT 8235 , NAT 8252 , NAH 8253 , NAH 8254 , NAH 8254 20 kHz , NAE 8256 , NSL 8257 , NAR 8258 , NPN 8264 , CMP 8270 , EPR 8283 , EPI 8287 , EPN 8288, EPR 8293 , EPN-S 8320 , DPC 8380 , DPS 8381 , EXL 8432 , ECL 8438 , ECL 8439 , ECT 8472 , ECT 8473 , ECTN 8477 , ECR 8478 , NAL 8838 , EXNA 8854 , EXNAL 8858 , EXNAL 8859 , NAP 8842/8843 , ESH 8845






Electronic Pressure Switches
The superior technology and precise production guarantee a faultless functioning even where vibration resistance, electromagnetic compatibility, shock resistance or temperature insensitivity are a prerequisite. Compared to mechanical pressure switches, the electronic version can be used where a power supply is available and the advantages of the electronic pressure switch are utilizable. Thanks to a lack of wear, the switching point accuracy remains constant and precise over the entire service life, even with a very high number of switching cycles. Thanks to various functions, such as the large hysteresis setting range (switching difference), the selectable delay time, and other options, e.g. of the window function, is the application area very diverse. Because of other features, e.g. the pressure display and the manual adjustment of the parameters, the electronic pressure switches bring high flexibility to the work.
NAT 8252 - Industrial Pressure SwitchNAT 8252Industrial Pressure Switch
NAH 8254 - Hydraulic Pressure SwitchNAH 8254Hydraulic Pressure Switch
NAR 8258 - Railway Pressure SwitchNAR 8258Railway Pressure Switch
EPN-S 8320 - Electronic Pressure SwitchEPN-S 8320Electronic Pressure Switch
DPC 8380 - Display Pressure SwitchDPC 8380Display Pressure Switch
DPS 8381 - Display Pressure SwitchDPS 8381Display Pressure Switch